One of the critical myths that many hold to be true is that Tesla has a serious advantage in battery mileage.
This write-up looks at Tesla's reported battery performance results versus performance in real world driving tests, and versus its results in the tests supervised by the Environmental Protection Agency ("EPA"). Tesla's relative performance is compared to the relative performance of other manufacturers. Some of the tests and reported results look at the fully-charged range and others address issues of efficiency. Some of the tests and reported results are done under highly controlled conditions, whereas others are less rigorous.
The following tables summarize the results from all the comparative tests under controlled circumstances that the author was able to find:

Comments
Note that there is not a single test where any other brand did comparatively worse than
any Tesla.
Multiple tests and multiple forms of tests all show the same results: Tesla
underperforms its EPA ratings materially, consistently and uniquely.
Tesla has responded to the Autocar/What Car? results by claiming that the failure to
fully drain the battery invalidates the test. But multiple other tests that show full
draining produce the same results.
Highway results are likely to be most relevant since this is the type of driving where
range is most important.
Additional evidence: The EPA test versus the WLTP test
The EPA test is the standard in America. Elsewhere, the World Harmonized Light Vehicle
Test Procedure ("WLTP") is used. Both are government-authorized and highly controlled
tests. The WLTP test consistently produces longer range results than the EPA test.
An analysis of all 10 vehicles (including 3 Tesla's and 7 other brands) for which the author
was able to find comparable results shows that the average ratio of the ranges
produced by the tests (EPA/WLTP) is 83% for the Tesla's versus 93% for the other brands.
However, unlike the controlled, comparative tests reported above, there is greater
variance of the results and some non-Tesla brands have results lower than some Tesla's.
Since it is difficult to "game" two very different tests at the same time, this is evidence
that Tesla is looking to optimize results on the EPA test.
Three professional testers/automotive writers (Edmunds, The Drive, Road & Track) have all commented on this subject. These authorities all come to the conclusion that Tesla materially, consistently and uniquely overstates its range. Here are some representative quotes:
"I'm tired of this. I am not able to match, let alone exceed, the Tesla's rated range. This flies in
the face of every other EV…. I'm thinking [Tesla's] ratings are overstated. Of course they are." (Edmunds)
"But Tesla's numbers have never really made sense to me either. These are great cars, but I can tell you that there's no universe in which a Tesla can approach its EPA ratings in real-world driving." (The Drive)
"It seems Tesla optimizes its cars for the EPA test, which gives them range numbers to brag about on paper—numbers that owners I've spoken with can't seem to reach." (Road & Track)
Spritmonitor.de is a German website where car owners can input their actual consumption results for both EVs and ICE vehicles. This is obviously not a controlled result. However, if Tesla's had materially more efficient EV Drivetrains, you would expect to see a systematic difference between Tesla's and other brands in the website's measure of efficiency (average kWh consumed per 100km of driving). Adjusted for the weight of the vehicles, which is admittedly a very crude standard, there appears to be no material difference.
Tesla's contain a GPS feature that directs that driver to the nearest Supercharging station. The feature also shows whether the driver has sufficiently battery charge to make it to the station. To make this calculation, Tesla uses data crowd-sourced from Tesla cars. The results imply battery ranges much closer to the shorter real-world results than the EPA results. This belies the claim from many Tesla bulls that the other tests are biased against Tesla.
Conclusions
In the real world, Tesla's do not have a material technological advantage in the company's EV Drivetrains. Although Tesla's range and efficiency results are as good as, but not materially better than, other manufacturers, this "advantage" needs to be tempered with the following considerations:
There are clear indications that Tesla uses technologies, such as battery chemistries and
configurations, which are inherently less safe than those used by other manufacturers
but which produce higher power densities. Other manufacturers are not willing to make
this trade-off versus safety.
There are also clear indications that Tesla uses technologies that are less reliable and
durable than those used by other manufacturers. The range of Teslas seems to decline
faster than other brands with use, Teslas very quickly go into "limp" mode to avoid
overheating (like in the quarter-mile races in this test), and Teslas quickly reduce
charging speeds. All of these are indications of EV Drivetrains optimized for short-term
"bragging" results rather than long-term performance and customer satisfaction.
It has to be remembered that Tesla's are designed from the ground up to be EVs,
whereas most of its competitors to date are general models that have an EV Drivetrain
option. The ground-up designs should be more efficient. Tesla's more recent
competitors, which are not included in these test results, are starting to be ground-up
designs and therefore should perform relatively even better.
As is so often the case with Tesla, a seeming technological advantage is just Tesla's willingness
to be more reckless and short-sighted than other companies.
It is clear that Tesla is "gaming" the EPA test. Although this is probably done to a degree by all manufacturers, it is clear that Tesla is doing this far more aggressively than other manufacturers. This is another case where Tesla is not better, merely more reckless.
Full Self-Driving is a Lie
Tesla is not now, nor has ever been, a leader in the pursuit of autonomy.
In fact, Tesla is not even dedicating resources to full autonomy- they are merely bootstrapping their Level 2 Driver Assistance Systems to try and catch up to Musk's vacuous promises about their so-called Full Self-Driving product. To understand how much of a crock Tesla's pursuit of autonomy is, one first needs to understand the less-than-illustrious history.
In 2016, Tesla was using Mobileye vision systems in its cars.  Tesla Driver Assistance was the most advanced on the road at the time, but it wasn't their technology, it was Mobileye's.  Worse, it was the most advanced because it was being used dangerously, using drivers as guinea pigs in ways any other OEM & Mobileye itself were uncomfortable with.  This isn't better technology, its willingness to use existing technology in more dangerous ways- a pattern that permeates Tesla at large.
In 2016, Mobileye got so concerned with Tesla's misuse of their technology, they fired Tesla as a client. Tesla claimed it was because Tesla itself was developing  competing technology, but they did so by PR leaks. Mobileye put in a signed SEC filing that, in fact, they broke up with Tesla due to Tesla misuse of its technology. Tesla never formally responded because they could not, as Mobileye was speaking the truth.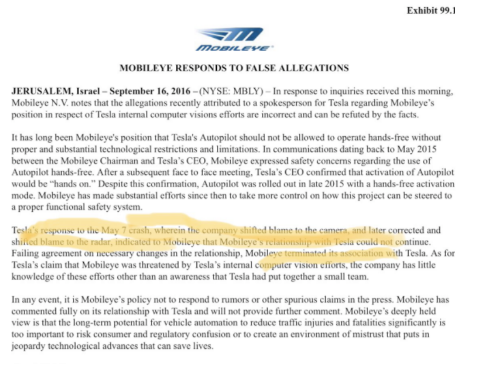 Sadly, Tesla continues to this day the very unsafe practices being undertaken by Tesla. In middle of trying to close the self-dealing SCTY merger and losing its partner, Tesla in October 2016 declared all cars were now "Full Self-Driving"- a claim that Tesla even now acknowledges is false.
In fact, at the time Elon/Tesla was making this claim, Tesla lacked even a basic data collection ability to work on autonomy & those working on Tesla vision were fleeing in droves due to Elon's negligent promises.  Here is the resume of Chris Lattner, brought in to head Tesla's effort in January 2017, speaking to these truths.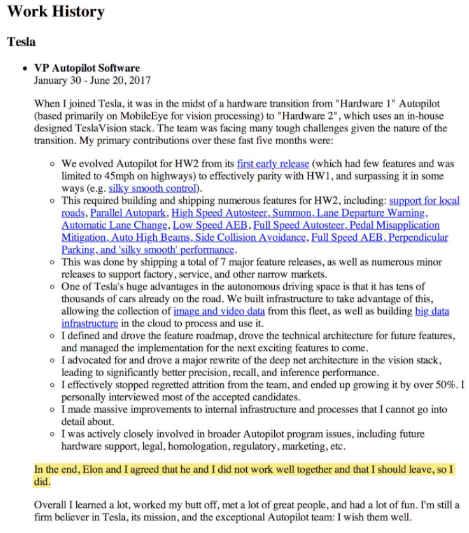 Since then, Tesla has just bootstrapped its existing technology in minor improvements with no discernible advantage. Which brings us to LIDAR, widely considered necessary for autonomy & used by SpaceX for critical spacing needs a la space shuttle docking.
Not based off of any scientific evidence of any kind, Tesla and Musk began making the claim that LIDAR was not necessary for autonomy. Every single person that has been senior at Tesla working on autonomy disagrees.  They have all left for LIDAR based autonomy companies- or at least companies that include LIDAR in their development.
Because Tesla sells autonomy, and has collected many hundreds of millions, they have to keep the dream alive.  Musk pretends there's regulatory hurdles, but Tesla itself acknowledges that's a lie.
Here is discussion of a study by Navigant Research, which shows the reality of where Tesla actually ranks on self-driving. The report concludes that
"[T]he performance of [Tesla's] systems remains inconsistent and its products do not match its proposed mobility business model.
https://www.cnet.com/roadshow/news/self-driving-study-navigant-research-tesla-waymo-cruise/
And here is another recent report on Tesla's Autopilot safety: https://teslanorth.com/2020/10/02/tesla-autopilot-ranked-poorly-european-assessment/. Furthermore, don't forget about the many (deadly) crashes that have involved Tesla's – it's getting so bad that even the NHTSA is finally ramping up their investigations.
In February 2021, Ed Niedermeyer did an excellent job summarizing the timeline of Tesla's journey towards self-driving from 2016-today in this Twitter thread. Niedermeyer's points and more are also given, along with original analysis of the misleading data from the recent safety "transparency" report Tesla issues somewhat regularly, in this excellent video:
And wouldn't you know, in July 2021, Mr. Musk himself finally had the humility to admit this very point: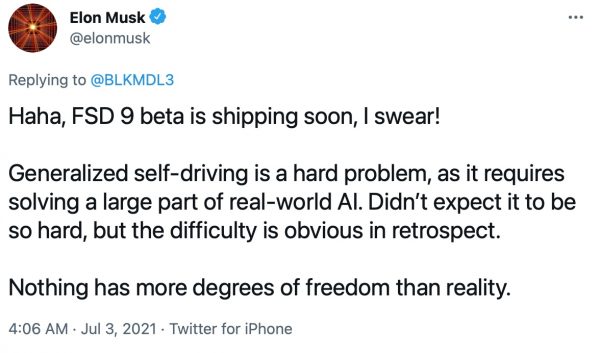 The Cost of Owning a Tesla
Tesla sells itself on lower cost of ownership due to fewer parts. Nothing can be further from the truth.
Tesla has history of laundering both new and used lemons in the US and abroad. They were sued for this practice by a whistleblower who had knowledge of and was told to participate in more than one distinct scheme to do so. Tesla settled that case pursuant to an NDA. Typically, when a company employee sues the company for fraud, the company doesn't settle. See this article for more details: Tesla Resells Defective Buyback Cars Abroad
Perhaps even more telling is how Tesla insurance rates are the HIGHEST in the industry. Tesla's "new" (the image below is from 2016) insurance product is just a way to make the company seem like they are addressing something that they cannot. Teslas are involved in accidents > 2x ICE vehicles and more than any other EV. That's not good for cost of ownership. In 2018 in Norway, where statistics are available for the whole country, a staggering 20.4% of Tesla's owners were involved in a collision vs 13.5% for other EV's & 9% for ice cars.
Why are Tesla's so expensive to insure? One of the reasons is their abysmal build quality. Below are a few articles and some photos collected to give the reader a sense of the issues surrounding build quality.
What Experts Think Of Elon
Elon Musk is a charlatan, not a genius, and possesses no genius or expertise outside of marketing, sales, and pushing propaganda.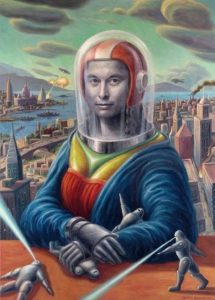 In fact, much of what you are led to believe about him is false:
Musk transferred in to Penn from Queens University in Canada – the easy way for admission to an Ivy League – and then took extra time to graduate. No record of him ever being accepted by Stanford, let alone attending AND dropping out, has been produced. His status in terms of Stanford was even challenged in court by one of the REAL founders of Tesla: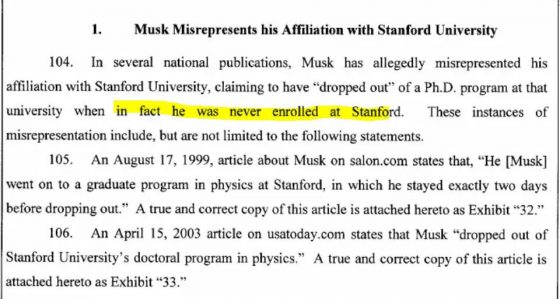 Musk is not a founder of Tesla. He bought his way in then sued for the "co-founder" title. He's not even legally allowed to call himself the founder, so on any Tesla literature or background, you will see the "co-founder" purchased title. Here is an article detailing this fraud
The most charitable explanation is that Musk sits in the hazard phase of knowledge on every topic. Here's a great article from December 2018 highlighting that if you have expertise in a topic, you know that Musk does not. It explains that Musk is full of it on the following topics:
Reusable rockets
Flying from NY to Shanghai in 30min
Colonizing Mars
Hyperloop
Neuralink
Tunnels
Autopilot
Thai Cave fiasco
Just in 2020, Musk has annoyed experts on Covid and Artificial Intelligence with his misinformation and lack of understanding…
Covid:
And of course, lest we forget:
AI:
Dr. Lara Jones, an ICU MD, pleaded with Musk on Twitter to "stay in his lane." It's not that Musk needs to stay in his lane, it's that when Musk delves into yours, you realize he's a charlatan. What she says about his comments on lung capacity are equally true of 90%+ of his claims. Most people just take his word for it when it's not their wheelhouse.
Musk is a narcissistic sociopath. On the Joe Rogan program, Musk endorsed a specific "life is a simulation" theory- one that isn't cute but custom tailored to justify his abhorrent behavior. No, this isn't about being a geeky scientist, this is about justifying caring less about others. The Robin Hansen text that created the theory Musk subscribes to states in its header, "if you might be living in a simulation, then all else equal you should care less about others." Read on, and you will see how Musk chooses to live. Like nihilism, the simulation theory is just an excuse for sociopaths.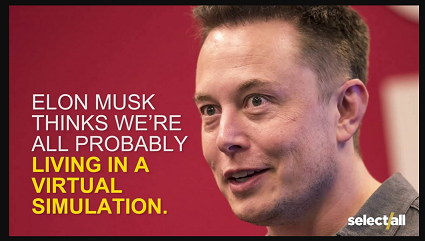 No one is spared from Musk's inner sociopath
Wives – "I am the alpha" he said to his first wife at their wedding reception
Employee – "I will nuke you" as an employee who he tried to retain quits
Citizens – no one else "beta tests" lethal software on unsuspecting roads, see TeslaDeaths.com for the fallout & deaths
Citizens again – Tesla uses buyers as guinea pigs & avoids pre-production testing because it's better for the stock price, bro
Even in the fawning and flattering Ashlee Vance access biography-
"Elon's worst trait by far, in my opinion, is a complete lack of loyalty or human connection. Many of us worked tirelessly for him for years and were tossed to the curb like a piece of litter without a second thought" ~unnamed Tesla employee
One of the best examples of Musk's tendencies are in how he dealt with whistleblower Martin Tripp. Not only did he call himself out as a sociopath when trying to call Tripp one, the real kicker is detailed beautifully in this Bloomberg piece.
He has quite a history with whistleblower's, as outlined in this Twitter thread detailing numerous cases of immediate termination upon contacting the ethics hotline or Musk himself.
In a more comical yet still disturbing displays, the following YouTube video uses multiple sets of criteria for psychopathy to analyze Musk – you can guess what the conclusions were:
This just scratches the surface of the evidence showing Musk as a sociopath. The majority of this evidence shows up via the many tenets of Tesla's fraud covered throughout the website, undoubtedly championed by Musk himself.
The acquisition of SolarCity by Tesla in 2016 is perhaps the most blatant act of self-dealing of this market cycle.
In an all-stock transaction, Tesla shareholders, led by Elon Musk, bailed out SolarCity as it teetered on the edge of bankruptcy. A full accounting of the history of that transaction is not yet possible, but the evidence accumulated thus far leads to one inescapable conclusion: Elon Musk brazenly engineered the rescue of SolarCity at the expense of Tesla shareholders because failing to do so would have jeopardized his entire empire, including SpaceX, his personal wealth, and the wealth of many of his family members. He bluffed, exaggerated, lied, invented fake products, and ultimately pulled off the transaction and lived to fight another day. His behavior during this crisis follows a recognizable pattern that has repeated itself on at least two other occasions since.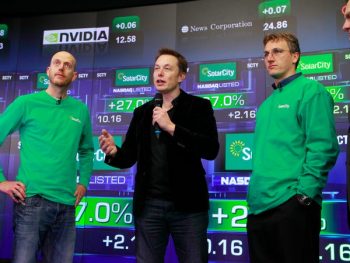 Given the egregious nature of what transpired, the SolarCity bailout has spawned several class action lawsuits by shareholders. The most notable of these is the shareholder derivative lawsuit currently ongoing on the Delaware Court of Chancery. Thanks to the tireless work of the PlainSite organization, the case docket can be found at the link below. The case documents include many that Musk and his team of lawyers have tried to keep confidential. It does not take much exploration of these documents to see why.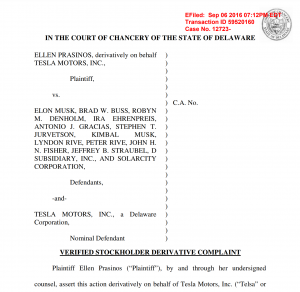 Delaware Court of Chancery Case Docket
In mid-2018, a ruling by Vice Chancellor Judge Joseph R. Slights III denying the defendant's motion to dismiss was made public. In what turned out to be a very notable thread, Tesla critic @TeslaCharts posted a detailed analysis comparing what the ruling revealed about Musk's many deceptions to his public statements and investor communications. The thread went semi-viral after it was reposted in its entirety on the website run by Zerohedge. Musk himself engaged the @TeslaCharts account directly a few days later – clearly, the thread had stuck a nerve. The original thread can be found here:
TESLAcharts Twitter Thread
The core conclusions from the thread are simple: SolarCity was insolvent and Elon Musk and the board members at all three of his companies knew it. Strikingly, Musk used SpaceX money to prop up SolarCity until Tesla could save it. He directed SpaceX to purchase $255 million worth of SolarCity bonds, a stunningly reckless move that ultimately tied the fate of Musk's entire empire to SolarCity. Had SolarCity failed, they would have defaulted on those bonds. Since SolarCity was a financial engineering company at its core, recovery value in bankruptcy would have been minimal. SpaceX, itself struggling to create a sustainable business at that time, would have been a casualty of a SolarCity filing. Musk and his family members would have defaulted on personal lines of credit, triggering cascading series of defaults leading to financial ruin for all involved.
The desperation to get the deal done caused Musk to pull a Theranos-style fake product demonstration – the infamous solar shingle reveal of October 28, 2016. To sooth anxious investors, Musk stood in front of the world and proclaimed a breakthrough. As reporting by FastCompany would later confirm, the product was fake. The entire event was held on the set of Desperate Housewives, none of the shingles on display were functional, and the entire event came as a surprise to the teams within SolarCity and Tesla working on the project. (See Inside The SolarCity Fake Product Demo for the whole story.)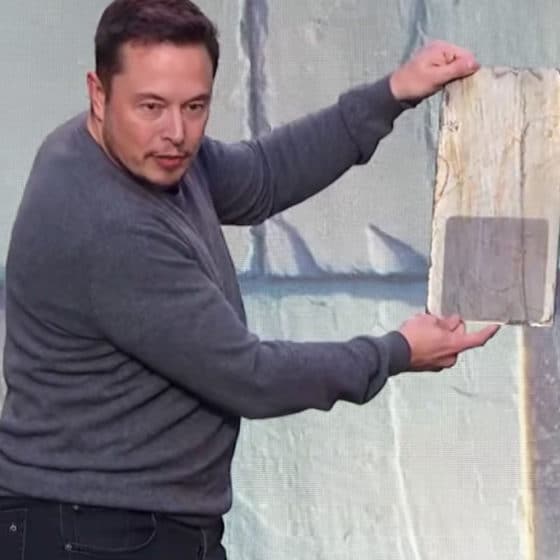 As more lawsuit documents came to light, the depth and extraordinary nature of the many conflicts of interest among the directors at SolarCity, Tesla and SpaceX became clear. These conflicts are laid especially bare in the in the deposition of Kimbal Musk who, despite being a board member of SolarCity, Tesla and SpaceX, claimed under oath to have no conflict of interest. Notably, as the Tesla board was pondering whether to acquire SolarCity, Kimbal Musk was facing numerous margin calls on loans backed by pledged SolarCity stock. The deposition shows that the Musk brothers made a mockery of corporate governance. Laws don't matter if you win and losing wasn't going to be an option.
In another notable thread, this time posted in October of 2019, @TeslaCharts once again exposed the sheer comedy of it all: TESLAcharts Twitter Thread

(first of eighteen tweets!)
Ultimately, all the directors of Tesla except Elon Musk settled the derivative lawsuit in Delaware for a payment of $60 million. Elon Musk continued to fight the case, which was been delayed several times because of the COVID-19 outbreak. As Jim Chanos notes, share price is the ultimate prosecutor and defense attorney, though the plaintiff's lawyers in this case have shown some chops. Keen analysis of Musk's testimony from the Chancery courthouse is provided by YouTuber Common Sense Skeptic with their Musk on Trial series:
With Tesla's stock still in the stratosphere and the judgment uncertain, Elon Musk seems likely to escape the consequences of the sordid SolarCity affair, at least for now. Time will tell if history will be just as kind.